The Bugatti
Approved for Q40 and F3T.
Production should start by end of November 2015.
Same deal as all the others, 2 piece wing available, full carbon body and or wing available, building service for all or any part of building available, call for quotes on anything you want. Got to be the sexiest Q40 ever !!.
All new Bugatti
call me to order yours now 360-903-3520
The Endeavor
This is our newest addition of AMA legal airframes.
They are in stock and ready to ship; no waiting.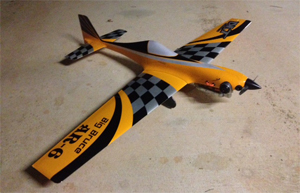 The Q40 model of the AR6 was designed by Dave English and tested extensively by Jim Allen
This racer is very stable and very fast posting the fastest time in several contests. It comes with a two piece wing and removable stab. It takes a 1.75" spinner.

You will like the quality and the way it flies.
All new AR-6
call me to order yours now 360-903-3520
This AMA legal airframe comes in four different colors. White, Yellow, Orange and Red. Extra multi colors painted in the mold are available for ease of customizing.

The Sump'n Else Q40
The Sump't Else is built by Bruce DeChastel and is the continuing evolution of the Q40 racers. It has become the top contender in the fast lane. It has been taking top spots and fast times all over the country.
Sumpt'n Else


Click on the image for more detail
The Supercat Q40
The Supercat is built by Bruce DeChastel and co-designed by Dan Kane and is the continuing development of the mid-wing Q40 racers. It has become the top contender in the fast lane. It has been taking top spots and fast times all over the country.
Supercat


Click on the image for more detail